3x NP-FW50 Battery+Charger For Sony Alpha A6000 A3000 A5000 A7 A7R A7S NEX-3N/5N 747180911107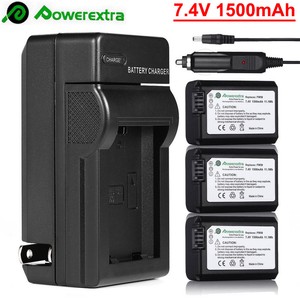 ---
无标题文档 Etechmall Home Hot Sales Special Items EBL Batteries & Chargers Power Tool Battery Product Descriptions

Powerextra is committed to battery design and production.  It mainly specialized in photographic batteries, power tools batteries, home phone batteries, generic batteries. With the aim of quality and customer service, it has become a trusted brand!

Features: For the Battery:1. This is a high capacity rechargeable li-ion battery with premium cell,fully compatible with your OEM battery charger.2. Never run out of battery power when you're just about to capture the perfect moment.3. Time to get extra power for your digital video camera & camcorder.4. Aftermarket replacement for the original Sony NP-FW50 battery pack.5. Capable of showing battery status including battery level and remaining usage time.For the Charger:1. Provide charging solution for your digital camera / camcorder2. Keep your battery charged at home and on-the-trip with this compact battery charger set for Sony NP-FW50 batteries3. New generic Compact Battery Charger Set compatible with Sony NP-FW50 batteries4. High quality battery charger is a handy companion for digital shooting5. Charger is designed with a foldable A/C plug that charges your camera / camcorder battery anywhere in the world6. Quick charge with automatic constant current control prevents battery from overcharging, short circuiting, and electronic shock Specifications:

For the Battery:1. Battery Type: Li-ion2. Voltage: 7.4V3. Capacity: 1500mAh4. Product Type: Replacement batteryFor the Charger:1. Output voltage: DC 8.4V 600mA2. Input voltage: AC 100V-240V~50/60Hz Max 150mA3. Best aftermarket replacement for original charger4. Charger Compatible with: Sony NP-FW50 battery5. Battery charger kit includes    Battery charger with foldable AC plug    DC Cigarette lighter adapter (car charger) for any vehicle6. Color: Black

Compitable with:Replace P/N: Sony NP-FW50Charger replaces: Sony BC-VW1, BC-TRW   Compatible with the following Sony models:Sony NEX-3 NEX-3C NEX-5 NEX-5C SLT-A55 SLT-A33NEX-3 NEX-3N NEX-5 NEX-5N NEX-5R NEX-5T NEX-6 NEX-7 NEX-C3 NEX-F3Alpha A33 A35 A37 A55 7 A7 A7R A7SAlpha a3000Alpha a5000 (ILCE-5000)Alpha a5100 (ILCE-5100)Alpha a6000 (ILCE-6000)Cyber-shot DSC-RX10 DSC-RX10II SONY ILCE-QX1 Package Includes: 1x Wall Charger1x Car Charger3x NP-FW50 Battery

© 2017. All rights reserved.Collect from brand

Etechmall eaby store.