BMW E90 E91 E92 E93 N54 N55 335I HEL Performance Custom Engine Oil Cooler Kit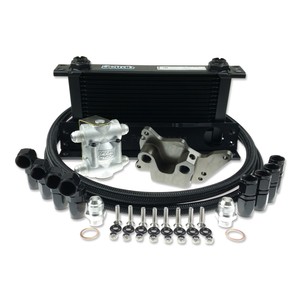 ---
Brake Lines Clutch Lines Turbo Lines Oil Coolers Accessories Custom HEL Performance High Performance Oil Cooler Kit Reduce Oil Temperature Up To 25°C Stops Oil Getting Too ThinMain Picture For Illustration Purposes You Will Receive The Below

1x
HEL Performance / Setrab High Performance Oil Cooler
1x
Custom HEL Performance Aluminium Engine Take Off Plate
2x
Custom HEL Performance Aluminium Brackets
8x
Bracket Bolts, Screws & O-Rings
1x
Mocal 80° In-line Thermostat
2x
Reusable Aluminium Banjo Adapters
6x
Straight Reusable Aluminium Hose Fittings
2x
90 Degree Reusable Aluminium Hose Fittings
2 Metres
High Performance Braided Hose
Oil Cooler Dimensions
Size Height Width Depth
13 Row
99mm
330mm
50mm
16 Row
122mm
330mm
50mm
19 Row - Recommended Up To 500 BHP
146mm
330mm
50mm
25 Row - Recommended Over 500 BHP
193mm
330mm
50mm
Description
We've built this kit around our excellent oil cooler which includes everything you need to fit it to your vehicle using our custom-made brackets provided. We've seen great results using the same kit on our own vehicles and it has been used on cars in various race series, such as Time Attack and The British Drift Championship.
We've included a sandwich plate with a built-in thermostat so the oil will bypass the cooler until it reaches 80°C. This stops the oil getting too cold for safe road use. When the oil reaches 80°C, the thermostat will allow the oil to pass through the cooler. We can also supply a 90° thermostat - please request this when making your payment.
We have bundled in two metres of stainless steel braided hose, which will be enough for all standard setups. If you need extra, please send us a message for a quote.