MOCAL SP1 / OTSP1 OIL COOLER TAKE OFF SANDWICH PLATE WITH OPTIONAL THERMOSTAT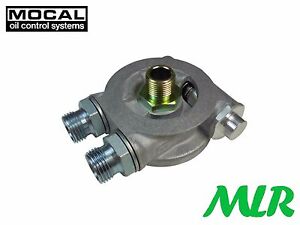 ---
GENUINE MOCAL OIL COOLER SANDWICH PLATE & FITTINGS
Universal Fitment
(Spin On Oil Filters Only)
OIL COOLERS/FITTING KITS AND THE FULL MOCAL RANGE AVAILABLE FOR ALL MAKES & MODELS - PLEASE SEE OUR SHOP ITEMS
Supplied with seals and a choice of pipe fittings, Centre bolt threads and an optional Thermostat
This is a brand new MOCAL oil cooler sandwich plate for use with MOCAL oil cooler systems
SANDWICH PLATE ONLY - NO COOLER OR FITTING KIT
OPTIONAL THERMOSTAT SPEC:
80°C  / 92°C thermostat
Ideal for use on cars that are used on road & track or high performance cars that require an oil cooler in summer but not in winter traffic.
80°C - This is the minimum temperature required to evaporate oil contaminants.
In very cold/wet weather over cooling of the oil can be can be avoided by the addition of a thermostat built into the sandwich plate.
DIMENSIONS:
Thickness: 32mm
External Diameter: 74mm
Please Note: This is a take off plate to allow the fitting of an oil cooler. It is not an oil cooler / heat exchange itself, nor is it a direct replacement for original equipment heat exchangers that are fitted in a similar location (between the engine and oil filter).
Designed for Motorsport use. No instructions are included. (Some fitting tips & tightening torques are included)
PLEASE VIEW MY SHOP ITEMS
SAME DAY/NEXT WORKING DAY DESPATCH
We will endeavour to despatch most items purchased before 3pm the same day (may not be possible on all items following bank holidays/busy periods etc)
If any items cannot be despatched within 1 working day we will contact you. (The despatch date will be printed on the parcel address label)
PLEASE NOTE: We cannot be held responsible for delivery companies/couriers that do not deliver on time. (Due to address queries/bad weather/locational errors etc)
During the feedback process you will be asked to rate us on Despatch time NOT Delivery time.
WORLDWIDE SHIPPING
For shipping prices please click on the "Postage and payments" tab above.
PLEASE NOTE ITEM & POSTAGE PRICES INCLUDE VAT. (Items cannot be sold or posted without VAT)
POSTAGE PRICES ALSO INCLUDE PACKING/MATERIALS & OTHER COSTS (franking, mail collection service etc)
Questions - we are happy to do our best to answer sensible, genuine questions during our normal office hours (Mon-Fri 9-5), however please note we do not have intimate knowledge of all makes & models or have personal experience of fitting/using all our products. Products only fit models stated (if products fit other models its in our favour to say so!) Products listed as UNIVERSAL FITMENT are not designed for any one model. Models suggested are appropriate for the product listed but please check specs/sizes where stated. Please have an understanding of what you are buying before purchase. Please allow 24h for us to respond to your question. If more than 24 hours has elapsed please contact us again as the email may have been incorrectly caught by our spam filter.
Feedback - Please be reasonable - we do not like to give or receive anything but positive feedback. If you have a problem with your order please contact us and give us the opportunity to rectify the situation (mistakes do happen, not often but they do happen!). Please note we state a despatch date on all parcels sent but we cannot be held responsible for Royal Mail/couriers actions, over which we have no control. Please also note the despatch (within 3 working days) and delivery allowance (7 working days) times stated on the listing. Please consider the packing time, materials and VAT aspect of postage costs. Please do not assume next day delivery as we do not offer this service without prior arrangement. If we deem unfair feedback has been left the person concerned will be reported to and barred from our shop. Most of our products are NOT designed for DIY fitting and in some cases instructions are not included - we state this when applicable. We do not prioritise feedback, due the time consuming nature of the feedback we do them in blocks of 2-300 at a time after orders have been sent & questions answered. Despatching orders & answering questions are our first & second priority. Please be assured feedback will be left at our earliest convenience. Above all we want you to have a positive buying experience and purchase from us again
Picture shows what you will receive if you purchase this item