NEW! POWERFLEX PFA POWER ALIGN CAMBER ADJUSTMENT BOLT KITS SIZES 10mm to 17mm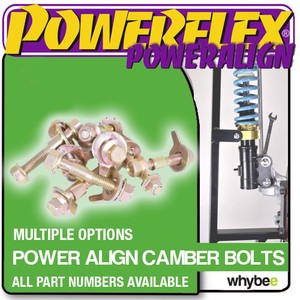 ---
NEW! POWERFLEX PFA POWER ALIGN CAMBER ADJUSTMENT BOLT KITS SIZES 10mm to 17mm POWERFLEX-WHYBEE-VARIANT-PFA PowerAlign Camber Bolts make non-adjustable two bolt suspension struts adjustable by up to +/-1.75degs of camber change. Simply remove the original upper bolt, loosen the lower bolt, install and adjust the PowerAlign Camber Bolt to the desired camber degree and then tighten everything to the vehicle manufacturer's torque setting. This is an easy fix for camber issues and a perfect add-on for any suspension bush change. The bolts are made using a 10.9 tensile, high strength steel that is zinc plated, offering resistance to corrosion. These parts are also covered under the terms of our lifetime warranty. Fast Delivery Secure Payments 60 Day Returns Authorised Dealer Your browser does not support the video tag. NEW! POWERFLEX PFA POWER ALIGN CAMBER ADJUSTMENT BOLT KITS SIZES 10mm to 17mm See reviews below No product reviews yet From £0.00 INC VAT Visit Shop: whybee-online View Our Feedback99.6 Positive Feedback Ask a question Similar items
New
This item is brand new and unused in manufacturers packaging direct from the supplier.

Description Delivery Returns About Us Description PowerAlign Camber Bolts make non-adjustable two bolt suspension struts adjustable by up to +/-1.75degs of camber change. Simply remove the original upper bolt, loosen the lower bolt, install and adjust the PowerAlign Camber Bolt to the desired camber degree and then tighten everything to the vehicle manufacturer's torque setting. This is an easy fix for camber issues and a perfect add-on for any suspension bush change. The bolts are made using a 10.9 tensile, high strength steel that is zinc plated, offering resistance to corrosion. These parts are also covered under the terms of our lifetime warranty. Delivery

To maintain our service we only select the market leading couriers to deliver our orders.
Delivery Timescales
All items listed on will state an estimated delivery time, upgrade options are available at checkout, should you require your order quicker.
Same Day Dispatch, Monday - Friday
We aim to despatch all orders received before 1PM GMT on the same working day however, you can order until 2PM GMT for orders that are delivered within mainland UK).
A select few items may have a longer lead time as they may be specially ordered from our manufacturers. This will show in the delivery time on and also show when this item is likely to be dispatched – these items are not available for same day dispatch.
Delivery Cost and Info
Each item will state if delivery is free or if there is a charge.
TIP: You can also select the shipping country from the drop down box to give you a shipping cost to your specific country.
For any customers outside the UK mainland, Northern Ireland or Isle of Man, we can arrange, on your behalf, for your items to be delivered via a third party company within the UK who will then deliver directly to you. If you would like to make alternative arrangements for your delivery, please contact us via the messaging service.
Tracking
If the item is sent via courier you will receive a tracking number in order to trace your parcel.
Item Not Received
Should your order not arrive in the delivery time stated, please contact us so we can resolve any issue.
Transit Damage
If upon delivery the item is damaged, you can refuse delivery. In all cases if the parcel is damaged and if you choose to accept it please sign for the item as damaged and report to us as soon as possible and at least within 12 hours of delivery.

Returns
What is your returns policy?
We want to give you a hassle-free way to return anything, either as a UK or an International customer. As long as it's within 30 days of receiving your item you can return it for either a full refund or exchange. We require all items be returned in brand new condition, with ALL the original packaging and tags in place.
The parcel remains your responsibility until it arrives with us - remember to ask for proof of postage, so if your parcel goes missing in the mail, you'll have proof you've sent it.
We want you to be totally satisfied with your order, so if for any reason it's not suitable we are here to help.
How do I return an item(s)?
Please contact us to arrange a return and we will be more than happy to assist you in the best way to return the product(s).

Our returns address is

Whybee Ltd Gaghills Mill GaghillsRd Waterfoot Rossendale Lancashire BB4 9BB
Returning a parcel from within the United Kingdom
When an item is Faulty

If you item is faulty, you may qualify for a pre-paid label, please contact our customer service team before you return your item for the best way to proceed.

When you don't qualify for a free returns service

If you do not qualify for a free return you can simply send the item back to us via your preferred method, however we do recommend you use a traceable service so that you can track your items.
Free Returns
Some parcels qualify for a free returns service - if your order value was above £25, was originally sent via a courier and you are based in the UK, we can cover the cost of your return to us. (Only 1 free return per order). In most cases if you qualify for a Free Return a return label will be sent with your order for your to use
Non Germany international returns
As an International customer, you can return your parcel using any postal service. As long as it's within 30 days of receiving your item, you can return it for either a full refund or exchange.
Please note: - you'll need to cover the postage costs yourself.
Once the item arrives back at our warehouse, a member of our customer service team will contact you within 24hrs to discuss the return. A refund or exchange will be processed depending on what you have requested.
Germany international returns
We do offer a returns service from Germany and this will be chargeable at a discounted rate of only €7.50 which will be deducted from any refund due or would have to be paid before the exchange item is dispatched.
For more information on this please contact us via the messaging service and we will be happy to assist you further.
When will I receive my refund/replacement?
Processing your return quickly is our priority and a refund / replacement will be done as soon as the item is returned to our warehouse. We aim to turnaround all orders within 2 working days and process a refund or dispatch your exchange within this timeframe. During festive and sales periods this may be extended slightly.

About Us

Whybee is the authorised and official distributor and official approved online outlet for major brands including OMP, K&N FILTERS, ALPINE STARS, HPI RACING, NGK, TAMIYA, PEUGEOT, LEGO, SEALEY, PIAA, FUCHS, POWERFLEX, EIBACH, BOSCH, OSRAM, HASBRO and many more. We specialise in supplying quality brands at competitive prices.

All our stock is supplied to us directly from the manufacturer which means that we can guarantee you authentic genuine items, with great savings all delivered direct to your door.

If you have any queries please contact us via the messaging service.
Product Reviews
View more Close
NEW! POWERFLEX PFA POWER ALIGN CAMBER ADJUSTMENT BOLT KITS SIZES 10mm to 17mm
NEW! POWERFLEX PFA POWER ALIGN CAMBER ADJUSTMENT BOLT KITS SIZES 10mm to 17mm
Product Reviews
View more Close
This product has no reviews yet, however see what our buyers say about our other products...
This product has no reviews yet, however see what our buyers say about our other products...
You might also like...
Store & ListingDesigned & Powered by