PS4 Sony PlayStation USB Controller Charging Port Socket Board Flex Cable Ribbon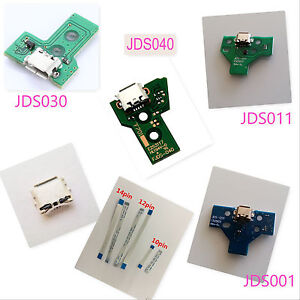 ---
Sony PlayStation PS4 Dual Shock 4 Controller Micro USB Charging Socket Port. 
PS4 Sony PlayStation USB Controller Charging Port Socket Board Flex Cable Ribbon.
Charging Port.
10 Pin Flex Cable 4cm.
12 Pin Flex Cable 9.5cm.
14 Pin Flex Cable 9.5cm.
12 Pin JDS-011 2nd Gen Charging Assembly.
14 Pin JDS-001 1st Gen Charging Assembly.
12 Pin JDS-030 F001 V1 Gen Charging Assembly.
12 Pin JDS-040 F701
12 Pin FJDS055 FJDS050
Micro USB Charging Socket Port.
PS4 HDMI Port.
PS4  HDMI  Port V.2.
PS4 Pro and Slim HDMI Port.
Replace your broken , damaged Port. 
Each item will be checked before dispatch.
Returns policy
We offer refunds on most items granted they are returned to us unused and within a 60-day time frame.  Products must be returned in their original packaging and with tags intact. This may not apply to all items and may only be applicable if certain conditions are met.
We take no responsibility for any cost associated with returns. The buyer is solely responsible for the cost of return. Buyer should also state the reason for return and specify whether they seek a refund or replacement. 
Payment policy
All financial transactions must be made through PayPal without exception. 
Shipping policy
All goods are dispatched within 1 day; Monday to Friday inclusive. This excludes orders placed over the weekends, bank holiday weekends and holiday seasons. All items are shipped from within Ireland through An Post unless otherwise specified. Customers may avail of the following postal options; standard, express or registered. The buyer is responsible for all costs associated with shipping.